HISTORY
In 1992 Maryvonne Wheeler, Cathy Newell, and Madeleine Henley founded both the District Exchange where used clothing can be donated and purchased and the Food Pantry to feed those in need. Originally, the money generated from clothing sales were used to buy food for the Food Pantry. Both were housed in the Ethel Bisbee School. From the beginning, each entity was popular with residents throughout Western Maine.
There have been a few dozen volunteers at the District Exchange and one or two folks running the Food Pantry, seeing clients by appointment one at a time.
The Food Pantry had a membership in the Good Shepherd Food Bank through a local church partnership.
Dave Bean started running the Food Pantry in 2004. Maryvonne Wheeler continues to guide the nonprofit to this day.
On February 9, 2012 the District Exchange/Food Pantry became a 501C3 with a board of directors. The Food Pantry immediately became a Good Shepherd Food Bank partner. There were yearly board meetings.
When the Ethel Bisbee School was closed eight years ago, the Food Pantry moved to the Nazarene Church at 16 Church Street. The District Exchange moved to the Bethel Park Apartments. Two years ago the District Exchange closed down, unable to find a new home in the Bethel area.
When the Food Pantry moved into the Nazarene Church it was open first once a month and then twice a month from 9:00 a.m. to 2:00 p.m. on the first and third Wednesday of each month. During the first six months of the Pandemic the Food Pantry was open every week.
Now, the Food Pantry is client choice. Clients choose what they need. The Food Pantry is now open every Monday, Wednesday, and Saturday 9:00-11:00 a.m. as is the District Exchange.
VISION
Through strategic planning, the Bethel Area District Exchange and Food Pantry will improve our infrastructure and build capacity in a multitude of ways.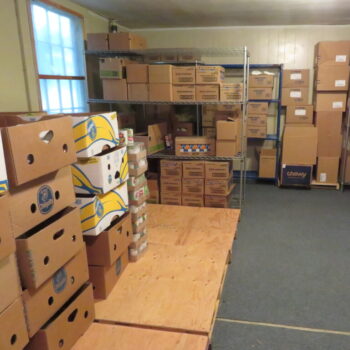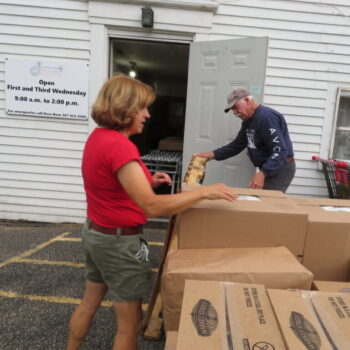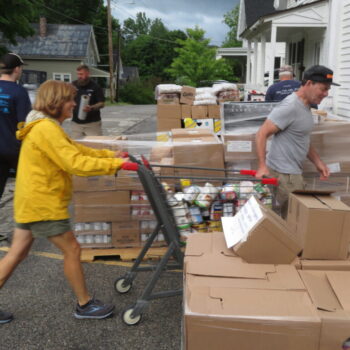 MISSION
The Bethel Area District Exchange and Food Pantry mission is to eliminate food and clothing insecurity in Western Maine by providing clients with nutritious food and easy access to inexpensive clothing. In order to accomplish our mission, we will build strong community partnerships and increase our client serving capacity.
BOARD MEMBERS
Monica Gordon, Treasurer
Monica Gordon lives in Albany, Maine and is the The Tax Loft office manager.
Stephanie Herbeck, President
Stephanie Herbeck of Bethel, Maine is an artist, graphic designer, a member of the BAAM/Bethel Area Arts & Music task force and is currently serving on the SAD44 school board. She is mother of two daughters who attend Telstar Middle and High Schools and enjoys writing, painting and losing track of time in the woods.
Brenda Blond
Brenda Blond is a resident of Bethel. She and her husband Carl, have six grown children and three grandchildren. Brenda is a retired Oncology Nurse Practitioner and is the owner operator of the GraceNote Inn & Spa on the Mayville road. She enjoys gardening, reading, and on road cycling. As an active Rotarian, she involves herself in many community service projects and initiatives.
Paul Duclos
Paul lives in Greenwood, Maine. He is a father of one daughter and 3 grandchildren. For fifty years he worked in Information Technology. Since retiring, he volunteers with the Red Cross and several gardening groups. An avid skier, Paul taught skiing for thirty-three years. He also enjoys hiking, road and mountain biking.
Heather Hale-Nivus
Heather Hale-Nivus, a life-long Mainer, has lived in Bethel since 1989. Along with her husband, David, they own and operate the Good Food Store and Catering Company and Smokin' Good BBQ. She has two teenage children who attend Telstar High School. She and David also hosted Turkey Tuesday for 30 years, a community dinner and fundraiser. In her free time, Heather enjoys skiing, snowshoeing, boating and being outdoors.
Heidi Holt
Heidi Holt lives in Bethel, Maine. She is the mother of an adult son. For sixteen years she was a chiropractic assistant, has worked in many retail positions, and has worked for the U.S. Postal Service. She is a master gardener. Heidi runs an outdoor Sculpture Garden, raises chickens for eggs, gardens, and volunteers. She really enjoys hiking, biking, canoeing, fishing, and spending time with family.
Hope Schroy
Hope is a retired social worker from MA. She and her family fell in love with Bethel twenty-nine years ago. They bought a condo at Sunday River and have spent as much time in Bethel as possible ever since. Her sons are Gould Academy graduates, Greg '04 and Brian '07. Hope served on the Gould Academy board for six years. She now wants to give back to the Western Maine community that she considers home.
Lloyd Sweetser, Vice-President
Lloyd Sweetser lives in Bethel, Maine where he is head of the Bethel Select Board and also Banking Center Manager for the Bethel Northeast Bank.
Maryvonne Wheeler, Secratary
Maryvonne Wheeler lives in Bethel, Maine. Recently retired after a 30 year career with Community Action Program, Wheeler is a co-founder of the Bethel Area District Exchange and Food Pantry. She enjoys spending time with her children and grandchildren, gardening and volunteering in her community.
Dave Bean, Executive Director
Dave Bean lives in Bethel, Maine with his wife Brooke Libby. He is the Executive Director of the Bethel Area District Exchange and Food Pantry. Bean is a writer, runner, skier, and skateboarder.
CONTACT US
Both the Food Pantry and the District Exchange are open every Monday, Wednesday, and Saturday 9:00-11:00 a.m.
We are also open for emergencies.
16 Church Street, Bethel, ME 04217